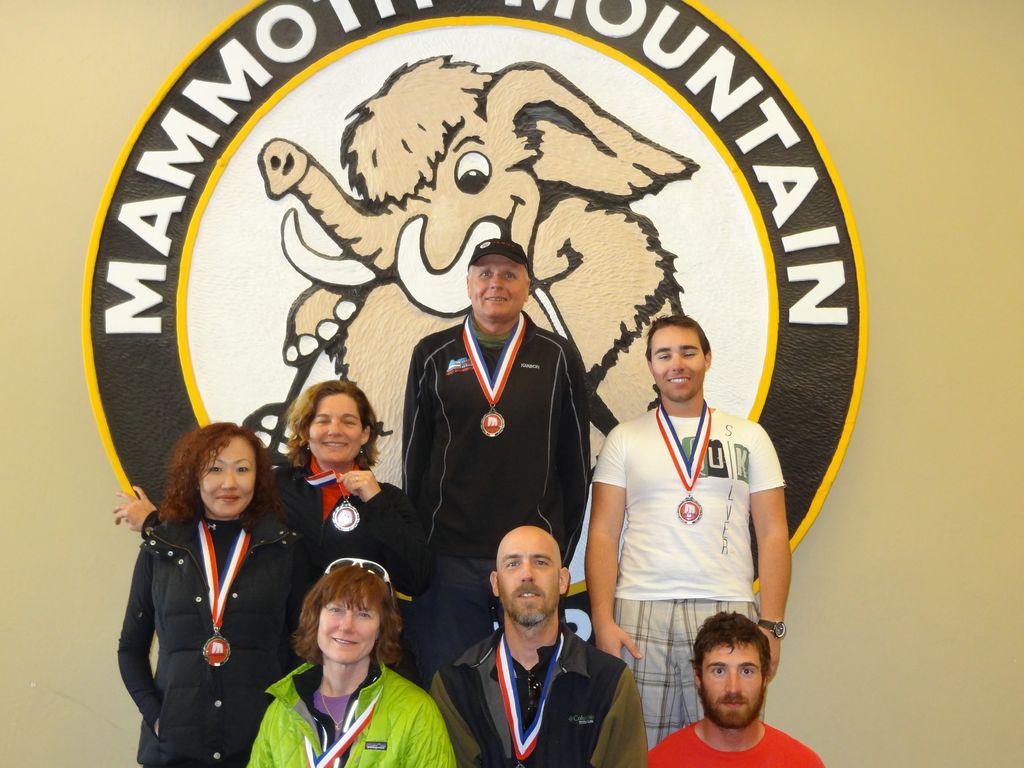 Race Team 2012 (click to enlarge) Far West Championships GS Winners

---
SDSC Race report
-2-17
Hello Racers, We have returned from Race/ Ride/ Ski camp. There were 2 different camps, One 5 day, and one 3 day. Both camps were really similar except for the logistics and length of the camps. Mammoth mountain supplied the instructors. The 5 day LAC camp started 2 days before the 3 day ROKKA camp. LAC camp had about 100 participants who have been coming to the camp for years. At 5 racers per instructor, 20 coaches/ instructors were allocated. Rokka camp started and there were Zero to 1 instructor available for the camp since all the instructors were teaching LAC camp. This was very disappointing to me and the ROKKA camp racers and participants. The first day of 3 was mostly a bust. The mountain found a couple coaches for the approximate 10 ROKKA campers. The next 2 days went well for the ROKKA race campers as I have been told. Having seen this situation, I strongly recommend the LAC 5 day camp, and if you canít do the 5 day, check to see how many participants are in the ROKKA camp. It comes down to clout, and LAC has the clout to negotiate with the race dept and ski school. Having done ROKKA race camp myself for years, I have seen the numbers for ROKKA camp drop, and less amenities and instructors available over the last few years. Those of us in the LAC camp were treated really well by the mountain. Courses were set just for us all week, re set and changed by the race dept before we ever got there.
Our group ran gates and trained in gates the whole week, 90% of the day. I have never skied so many gates , and by the way, the runs were timed with print outs. The other 10% of the day was free skiing and warmup, and video review , thanks to Jeff Meyerson for getting the camera dialed in for the coach. Jeff Meyerson also got all the videos from our coach and posted them to flickr. I just spent a half hour watching the 20 videos of our skiing,. It was really good to see our improvements over the week. I cant wait to race again! A race or Clinic was planned for the end of the week but was cancelled last minute Friday Morning due to anticipated low turnout. I would have really wanted to do that race, and I expect some of you may have been planning to come up. Nevertheless, the conditions were excellent for racing and skiing on groomed runs. Our trip was concluded with the Night of Lights at Canyon Lodge. Those of you that made it were treated with the best fireworks display I have ever seen. I think there is now a new level of fireworks display. You had to see it to believe it. If you didnít see it this year, try for next year. Here is the race calendar for the season:
January 20th ROKKA Race 1 THIS WILL BE 4 RUNS!!! No Friday Clinic due to sched conflict. I am not sure yet if SL or GS but will have answer by JAN 10TH.
Feb 6 GS during Far West Ski Week in Banff Canada March 9. Clinic. Expected cost $30.00 March 10th SOCALCs races. April 6 Clinic- Far West Championships Mammoth to be confirmed. April 7-8 Far West Championships. Mammoth .
We welcome new racers and members to our program. If you are interested in racing please contact me at the info at bottom of page and I will fill you in on how it works. There are no commitments required to race on any particular event . We train on the mountain mostly on groomed runs working on technique usually Fridays or sometimes Thursdays as well before the races. Skiers and snowboarders of solid intermediate skill level or better are welcome. If you want to join the racing program, there are just 3 or 4 races left in the season depending if you count the Banff Ski week race or not. I would like to find out how many people would be seriously interested in racing in Big Bear! With the decrease in opportunity to race at Mammoth, there area a few of us looking into Big Bear. It may be possible if we have enough interest. No guarantees, obviously your Mammoth Cali4ornia pass would get you in for free. This might be an option to Mammoth, or an opportunity to augment the Mammoth races. Get back to me if youíre interested. It would likely come down to numbers- how many people would participate. There is nothing solid yet, so your interest and comments would affect the outcome. Let me know if you are interested, and your concerns, issues and thoughts. My email is below. To get the forms for Alpine League, go to skisandiego.org. , Click on the San Diego Alpine League Racing Program on the left hand side. Then Join Us . Please mail to address below with a check. Looking forward to more racing and with more snow, free skiing as well. See you on the mountain.
Jerry Stokely, Race Director SDSC.

---